Reading Time:
7
minutes
Companies across the world trust us
Yugasa is an award winning company and possesses a pool of experienced website developers who can start working on your project immediately. Strong infrastructure, Good communication, Agile approach and Daily progress reports enable a seamless work operation from the Indian team. Required staff can be arranged from an existing pool of developers or can be hired fresh from the industry after interviewing the candidates.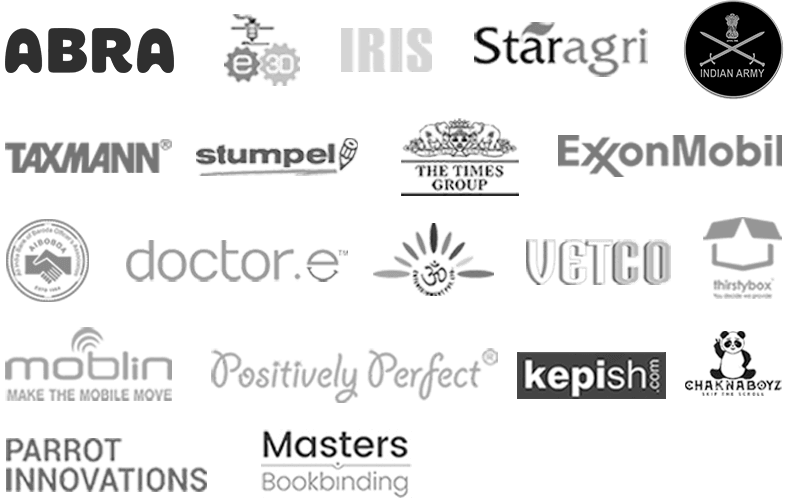 We Deploy Best Web Development Technologies
We are not restricted by technology at all. Yugasa has a pool of developers, designers and QA engineers to immediately join your project. In case we do not have any desired skill onboard already, we immediately get in action to hire new talent on board specially for your project.
Work Models
We understand it very well that 'Same Size Does Not Fit All'. Hence we have adopted different execution models as per your project's current status and needs. All our execution models follow Agile Software Development methods
Fixed Price
We understand your Web Requirements after multiple pre-sales meetings.
Based on final understanding, we propose an appropriate solution along with a fixed cost to achieve that.
After mutual agreement on cost, we design, develop, test and deliver the website on your server.
Dedicated
You inform your need of additional workforce and interview shared candidates of relevant skills.
Shortlisted candidates are deployed on your project on monthly billing.
You can start with smaller contracts of just 2 weeks with single developer. Progress Reports are shared daily.
Setup your own Team
We hire new developers just for your team in India.
These developers remain on Yugasa's payroll and act as your extended crew.
Hassle free infrastructure is maintained by Yugasa Software Labs. Billing for the team happens on monthly basis.
Outsourcing to India made easy
India is one of the best locations to be at. Its amazing demographics, market size, talent pool and high savings are some of the reasons why companies are willing to start an office in India.
100% productivity guaranteed
Our team manager will have regular communication and status meetings with your team to unblock them for any issues and ensure that they remain motivated and engaged in their work.
In case any employee is not able to perform well, he/she can be let go after giving them a notice period and a replacement will be hired immediately. Rest all the process and formalities of employees' relieving will be handled by team Yugasa.
Best of the Best
Every employee at Yugasa is shortlisted from the best talent pool. We do relentless sourcing and short-listing of eligible candidates for you. We do background checks of the candidates and then they are hired only after clearing ours and your interview processes. You sign NDA with every developer of your team. And then along with you being in regular communication with your team, we also assign additional supervision from our team to see that the team is 100% productive.
Save upto 50% of your company cost
Reports tell that
Cost (59%), Enabling core business functions (57%), Solving capacity issues (47%) and
Enhancing service quality (31%) are the primary drivers to outsource. We help in saving the team building cost to up to 50%.
Ready to use development centre arranged by Yugasa
Yugasa has a team of 50+ employees. We have a big office facility with a very good scope of expansion including complete infrastructure and connectivity. We are based in the most sought after business address in the country i.e. Gurgaon – "The Mecca for Indian Corporate Offices". With great connectivity with the capital city Delhi, Gurgaon is accessible through the NH8 expressway, Metro & Gurgaon Rapid Metro. All the hassles of finding a good office location in competitive pricing are done away with. Simply focus on the talent pool and get the work done.
Start as small as 1
No obligations of starting with a big team to be cost effective. Even a center with only 1 employee will be as much cost efficient! Try it, test it, see the efficiency coming on the table and then expand further. Building a team can be expensive. With Yugasa, you get the luxury of starting with the minimum expense possible and invest more as you build more confidence in your offshore team.
Why Choose us you ask?
Yugasa is not bound by any specific technology stack. We hire experience website designers
who may or may not be on Yugasa's board already.
A transparent company
We strongly believe in maintaining a transparent relationship with all our clients. At no stage will there be any additional or hidden charges that you might have to look at when you trust us with a project of yours.
Communication
wb developers at Yugasa are very efficient in terms of communication. We believe that a company can only thrive when it's teams can communicate easily. Hence a lot of time is spent to ensure our teams are able to communicate best with the clients using different online tools.
Confidentiality
Being one of the most trusted brands in the web development industry, we at Yugasa understand the value of confidentiality. You do not have to tell us that all information that is shared between you and Yugasa has to stay between us only. We adhere to this as an inbuilt value at Yugasa.
Hire on the go
Every project might require a very different set of talents. Hence at Yugasa, we maintain a team of experience web and e-commerce developers that are available as per the client requirement. This ensures that you get the best of the website developers working on your project at all times!
Experience matters
The talent pool in Yugasa has a wide range of experience in many languages. The development team has a minimum of 5 years of experience in the website domain. Each one of the talents is tested every now and again to ensure that they are on top of their games at any given time.
We have got you covered
Once we take up your web project, we are there for you always! We have a strong technical maintenance team if the need arises at any time for you to contact us for any sudden glitches. The teams can solve your challenges by deploying best of their experiences.
Here's what our clients have to say about us
At Yugasa, we believe actions speak louder than words. Thus, we love it when our clients reach out to us to share their experience with our solutions for them. Here are a few thoughts from our clients
Shan B. Snipes
A bunch of experienced and honest developers. Their acumen of developing a software product is unbeatable and is worth hiring. It was difficult to match their energy at times. I truly appreciate their capability to plan future features of the app in an intelligent way. Thanks guys.
Shan B. Snipes – Founding Partner – Infortech Pte Ltd
Scott
Yugasa team was responsive and worked diligently to accomplish all tasks in a timely manner. They were extremely professional, courteous and delivered a superior product. I was very pleased with the efforts of Yugasa and its assigned team members
Scott – Managing Member – SC LLC
Sanjeet
Thanks to Yugasa team members for coordinating and being there for me. I wouldn't have done it without you all. Certainly this is not the last piece of work, dare I say this is a start for more work coming your way
Sanjeet B – Director – XSP Consulting
A bunch of experienced and honest developers. Their acumen of developing a software product is unbeatable and is worth hiring. It was difficult to match their energy at times. I truly appreciate their capability to plan future features of the app in an intelligent way. Thanks guys.
Shan B. Snipes – Founding Partner – Infortech Pte Ltd
Yugasa team was responsive and worked diligently to accomplish all tasks in a timely manner. They were extremely professional, courteous and delivered a superior product. I was very pleased with the efforts of Yugasa and its assigned team members
Scott – Managing Member – SC LLC
Approved Parters of Recognized Associations