Reading Time:
2
minutes
WordPress Astra Theme: On 7th August 2020, the theme review team bot on WordPress support forum announced that WordPress has banned the Astra theme. The Astra theme is published by brainstorm force.
This ban was imposed due to the affiliate links policy for themes by WordPress. The statement published on the forum WordPress stated, "18 months ago you started adding affiliate links in your theme.
We have this requirement against this: Themes are not allowed to have affiliate URLs or links. We added this requirement more than 18 months ago, specifically for this kind of issue.
WeWe also asked other theme authors to remove such links from their themes and discussed this topic, on Slack & the blog, for many weeks."
This ban doesn't affect prop users. They shall receive regular updates for the theme. Recently Astra theme announced that they had reached one million active installs.
Soon this ban was announced which will last for 5 weeks. No other theme has achieved so many installs even the ones by WordPress and ocean WordPress (600000+ installs) or generate press WordPress (300000+ installs). Publishers of the theme rejected these allegations.
They also said that they've technically complied with the rules of WordPress. They also said "We, however, admit that we used filters available third-party plugins where we only pass our referral code.
Read More: SECURING YOUR WEBSITE BUILT WITH WORDPRESS
But at the same time, we do NOT add and affiliate links or whatsoever as per the requirement. We're not sure if using the referral filter is against the requirement.
But if it is, we're happy to remove it immediately and submit the new version." Sujay Pawar the co-founder of brainstorm force posted this on his Facebook page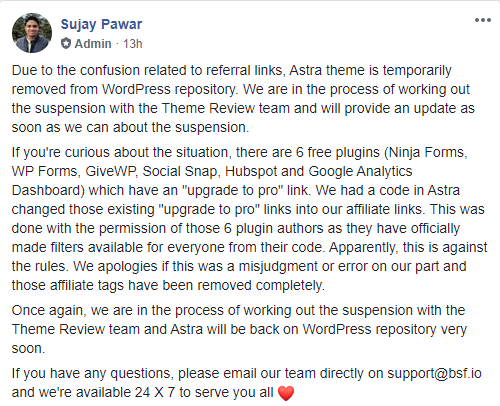 Update: On 10th August 2020, Astra theme was restored on WordPress repository