Reading Time:
3
minutes
Rural Net Users: The Internet is now one of the most common necessities in today's world. But the number of active internetz users were not showing justice with the overall population of India before.
The availability of the cheap internet connection in the world, India now has a significant number of active internet user.
According to the latest report by the Internet Mobile Association of India (IAMAI) and Neilson, this consists of 227 million active users from rural India and 205 million from urban India. The shocking fact is that rural India had 10% more users than urban India, as of November 2019.
Rural Net Users –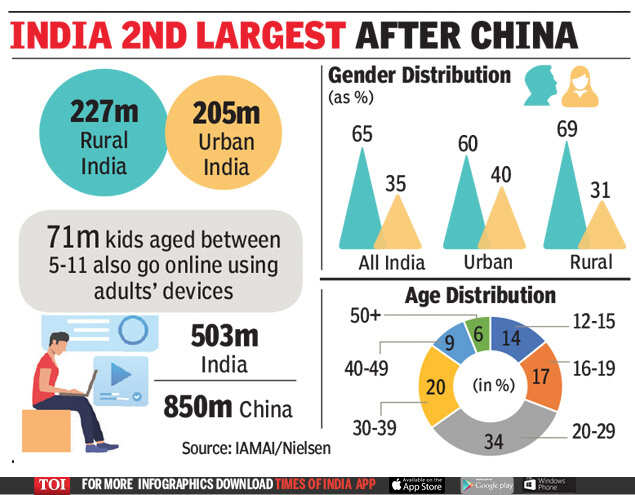 India had also surpassed another milestone of having 504 million active internet users who are 5 years old or above. According to the latest report, it is 53 million more than the previous 451 million in March 2019.
Thanks to the addition of around 71 million kids aged from 5 to 11 years, who go online by using device of their family member. Active internet users are define as those who use the internet at least once a month.
India seems to be gaining internet users in a huge amount for the first time. Now, India has become the second-largest internet user market with 504 million active internet users who are 5 years old or above. India still stands behind China which has the biggest internet user market having about 850 million users. Whereas the United States of America has about 280-300 million users.
Despite being the second-largest internet user market, India still lags behind both US and China in terms of internet penetration. India is only at 40% compared to 88% for US and 61% for China.
According to the report, India got 26 million new female users who went online during March-November 2019 period. This results in an increase of female users at a much higher rate, 21% than males with 9% during this period.
According to the report, adding new users in India still remains "immense" in the coming few years. The top eight metros had 65% of internet penetration as of November 2019, compared to that of March 2019 which was at 63%.
However, these change can be seen on women focus platforms like POPxo as they have seen an increasing number of users in local languages and from small towns.
The platform was found in 2014 and have done an experiment with local language, starting with Hindi four years from now, but due to the lack of attention from the users, it was shut down soon.
It started with Hindi again last year and attracted as many pageviews as English now. Out of the 22 million average monthly pageviews, a majority of 13 million page views are in local languages like Hindi, Marathi, and Bengali and the rest are coming in English.
POPxo CEO Priyanka Gill said "Hindi users have gone up sizably for us a lot of content consumption is happening over Instagram as compared to Facebook.
There is a surge in the live video as well." She add that the proportion of user from tier-1 markets has fallen to 35% now from 59% in 2018 while tier-2 and 3 markets have increased from 41% to 65% in the same period.
At the state level, the national capital Delhi registered the highest internet penetration followed by the Kerala, Jammu & Kashmir, Haryana, Himachal Pradesh, and Punjab. However, Mumbai showed the highest internet population of 13 million, a growth of 12 % from last year. Delhi had 11.3 million while Bengaluru had 6.6 million along with 6.2 million in Kolkata and 6 million in Chennai.
The above data is from November 2019 but according to the situation going on these days Rural Net Users, it doesn't seem that the trend is going to decelerate in fact it's accelerating.
Due to the COVID-19 lockdown, the time spent by Indians on their smartphones has shown a rise of 24% resulting in 4.3 hours of screen time as of March 2020 as compared to the 3.5 in March 2019. Indians from all age groups also spending very huge time on online gaming these days. Mostly in the arcade ones like PUBG, FORTNITE, etc.
However, as most IT and non-IT professionals are doing work-from-home, there been a rise in video conferencing traffic.
Also, most of the schools and colleges are offering online classes to their students, and that too done on video conferences. Students are taking benefit of this time by taking online courses depending on their own interests. All of this runs on the internet and hence it is increasing the consumption of the internet.