Reading Time:
6
minutes
Digital Healthcare 2020: 2020 is the year of the digital health sector, with technology-driven applications and portals. In 2018, the U.S. healthcare market was valued at US$ 144.2 billion and is forecast to grow to US$ 280 billion by 2020.
The reason behind the digital health transformation is rising health care costs, changing demographics for patients, evolving customer expectations, emerging market entrants, complex health ecosystem, and technology. The state of digital healthcare transformation in 2020 looks rather promising, isn't it?
2020 brings with it many innovations and advances in the healthcare sector. The advances in digital technologies will create huge new responsibilities and opportunities for doctors and patients alike. "Digital Healthcare Transformation" is the new "now" and shapes the future of health-care systems.
What drives Digital Health? 
Need for predictive and preventive care
Less cost and precise therapies and medical treatments
Increase demand from consumers/patients
In the US, spending on healthcare is incredibly expensive. The overall expenditure is $3.8 trillion per annum.
From the above, the following are the key takeaways:
Improving the health of the massive population requires new-age models and technologies that address health drivers, allow early diagnosis, and continuously monitor treatment response.
Governments around the world are also taking initiatives through the adoption of health coverage and the introduction of price controls and medical devices.
Technology-driven doctor-patient interaction, patient engagement strategies enable patients to have greater financial independence in their health care choices.
Advanced technologies such as cloud computing, 5G network, Artificial Intelligence, Natural Language Processing (NLP), and Medical Things Internet (IoMT) help streamline health services with rapidly changing consumer preferences.
Stakeholders in the health care sector are introducing payment reforms such as value-based payment models that help patients achieve the best results at the lowest cost.
A technology-enabled model has the potential to alter future roles for 'physicians' in delivering health care services, infrastructure, and enabling.
Health care systems can also link digital offers to strategically segmented customer experience and invest in core analytics to create a 360-degree view of the consumer that eliminates any barriers to operations.
Key Trends Showcasing Digital Healthcare Technologies in 2020
We can only expect advanced trends in health care in the near future as the new innovations continued to emerge. With this, we are bound to encounter new advances in the digital health sector that will reshape its landscape.
The key trends in digital healthcare technology for 2020
Telehealth visits are booming as doctors and patients in the midst of the coronavirus crisis embrace distancing. According to analysts at Forrester Research, the adoption of telemedicine has shifted to hyper-drive over the last month, with virtual health-care interactions on pace to top 1 billion by year-end.
5G- a new generation network for instant healthcare
The next key trend, 5G, is about real-digital interactions. The next-generation 5G network technology allows patients to be treated remotely via computer or mobile device. They will also share online reporting of their patients, online appointments, video consultation involving real-time human interaction.
Doctors could soon be using ultra-reliable teleport connections to virtual environments and perform robotic surgery.
5G also facilitates medical training, enabling students to use Headsets of Virtual Reality to practice complex operation steps at their own pace.
5G-enabled drones could deliver life-saving medicine or equipment to rural patients.
5 G allows instant streaming, downloading, and uploading of data relating to health care. For Telemedicine, means that patients will experience a better quality of video conferencing regardless of where they are.
Doctors will have access to accurate organ imaging, soft tissue, and bones, in real-time.
According to Qualcomm, the world's largest mobile chipset provider said, "The technology can run up to 100 times faster than the current cellular connection, making industry experts confident it will change the healthcare landscape completely and lead to savings of up to $650 billion by 2025."
Qualcomm said, "5G is designed to combine technologies such as artificial intelligence and XR to improve current services and applications and provide a different level of user experience."
Importance of big data in healthcare
Big data collects business information through diverse platforms such as social media, e-commerce, online transactions, and financial transactions.
The benefits of Big Data are multiple, including:
More accurate staffing: Big data predictive analysis helps hospitals and clinics estimate future admission rates to facilitate the allocation of appropriate staff for patient management. In emergency situations, it saves money and reduces waiting time.
Reduce the rate of medication errors: The software can increase any inconsistencies between a patient's health and medication prescriptions by means of patient record analysis. It helps alert health professionals and patients when a potential risk of medication error arises.
Facilitating preventive care: it facilitates preventive care as a large number of people entering emergency situations are recurrent patients also known as "frequent flyers."
Healthcare and pharmaceutical companies should invest in data management whilst bearing in mind these benefits. Big data, the Drug business owners believe, helps them understand the market trend. And with that, based on existing and future demands, they can identify product iteration and product budgets.
The evolution of the Internet of Medical Things (IoMT)
IoT development plays a critical role in tracking and preventing many patients from chronic illness through devices and mobile apps. Integrating IoT with Telemedicine and Telehealth technologies leads to a new Internet Of Medical Things (IoMT) evolution.
A number of wearables are involved in the technology including ECG and EKG monitors. The wearables and devices can be used to measurements such as skin temperature, glucose level, and blood pressure readings. Nearly 60 percent of operations in the healthcare industry have adopted IoT or IoMT systems, according to Frost & Sullivan. It's expected that between 20 and 30 million IoMT devices will be deployed by 2020.
The IoT trend has shifted everything from patient experience to profits on the market. According to the Allied market research report, the coming year 2021 is all setting the market for the healthcare IoT devices that are expected to reach $136 billion.
Wonders of Artificial Intelligence
Artificial Intelligence amongst all the others is the most advanced and multifaceted technology. The technology facilitates the aggregate of the company and synthesizes information needed for clinical trials, thereby shortening the process of drug development.
The technology processes information and provides data on decision-making in the same way as a human being does. It understands the nature of the disease, establishes bio-markers, generates data models, performs pre-clinical experiments, and even analyzes the experiences of the real world. AI applications make the speed and accuracy of the diagnostic processes easier to improve.
The FDA recently approved the first diagnostic device based on AI, a system that examines eye disease by analyzing photographs of the retina. High-quality images are uploaded, and the algorithm then proceeds to check for possible diabetic retinopathy indications. In 87 percent of cases, the software correctly identifies individuals, and also 90 percent without the disease.
Chatbots do it all!
Daily routine queries using messaging and voice systems backed up by AI help organizations realize cost savings. Health care chatbots assist doctors in the easy diagnosis of disease and also allow them to focus on issues that may require doctors' immediate attention.
From $122 million in 2018, the global healthcare market of Chatbots is projected to reach $314.3 million by 2023
Health Startups Delivering Digital Healthcare
Here are a few health startups that put their best initiatives in providing their patients with the best digital healthcare.
Ciitzen
Startup Ciitizen works for the welfare of patients with cancer by developing technologies that facilitate the best medical services available. Ciitizen provides services for the digital and free collection, summary, and sharing of your medical records. It also makes it easier to get a second thought, coordinate with caregivers, or you can even contribute to research.
Omada Health- Bringing human connection to digital care
Omada Health was founded in 2011 as a behavioral health startup. It benefits both individuals who pay for care, and the whole system as well. Omada health uses the latest technology to bring real, human support through sustainable lifestyle change to help people achieve health goals. Omada launched customized digital prevention, type 2 diabetes, hypertension, and behavioral health care programs to address the person's complete health patterns.
Steward U.S.
Steward is a Swiss-based healthcare company that recently launched a 5 G roll-out telemedicine application called Stuward VU. The application facilitates the connection between medical professionals and those seeking online consultations.
Virtual care is a must-have for physicians
The adoption of virtual healthcare practices grows year after year. See how 61 percent of doctors-to-doctors implemented electronic consultations. Patient portal consultations via emails represent 64 percent. And there is 58 percent of remote patients taking treatment from home.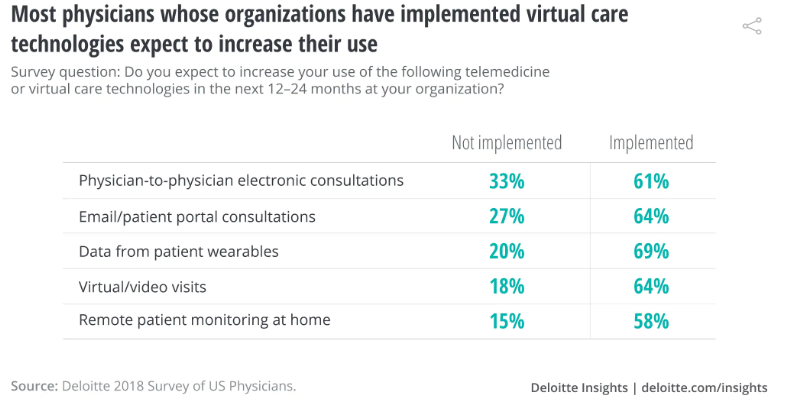 The enterprise-wide approach begins with the correct set of virtual health care questions.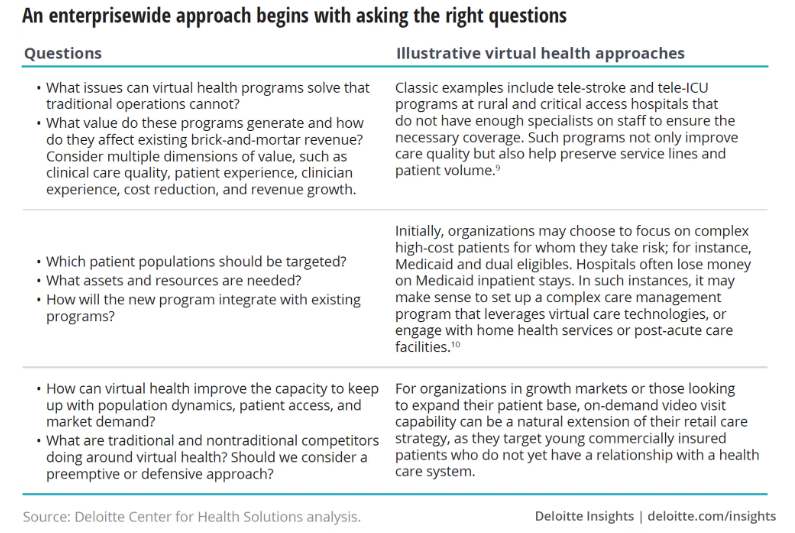 Conclusion
A big thanks to technology, as these patients are getting better medical treatment with virtual reality tools, wearable medical devices, telehealth, and mobile 5 G technology. Also, caregivers can streamline their workflows using state-of-the-art technologies such as artificial intelligence systems.
The potential of all technologies for creating synergies in healthcare that yield digital transformation is immense. It is anticipated that the large ecosystem will become more independent as the industry moves forward.